MINNEAPOLIS COMMERCIAL SNOW REMOVAL SERVICES
Do you need to find a commercial snow removal and plowing service in Minneapolis? We offer snow plowing, snow removal, and winter condition services for businesses within a 10-mile radius of downtown Minneapolis.
Our services include professional snow plowing of your parking lots and entry ways, as well as sanding, salting, and de-icing your sidewalks and walkways so that your customers, residents, and/or employees can arrive and depart safely and securely.
The truth is that commercial properties have unique snow and ice removal needs. Whether it's a townhome development, rental business, medical clinic, apartments or condos; we can clear the winter's wonders away from driveways and parking lots. Customer and resident access is priority and safety comes first, not just as a good manager, but to ensure proper liability coverage.
Commercial snow removal is a job that is too big for most employees to handle and this is why smart property owners invest in snow removal services. However, not all service providers offer the same quality of work; some are quite reliable, and others are not. And, some will provide quality work whereas others are… how do we say this? Quite the opposite.
All in all, one thing is clear – the job might not be done right if you just choose the lowest bidder. That said, we're considered an affordable snow plow crew, and we've got very competitive rates.
GET A FREE QUOTE OR SCHEDULE A SITE VISIT
Depend on us for all of your commercial snow plowing and removal needs. We are not only reliable and affordable, but your customer's and resident's comfort and safety is our top priority.
Many businesses are moving towards having professional snow plowing and removal services in Minneapolis area. As a matter of fact, it makes economic sense to take the hard work and health risks out of this challenging task. Furthermore, it is safer to leave the job to professionals because they have all the equipment needed, as well as heavy-duty snow plows that makes clearing driveways and walkways a breeze. Your guests, visitors, customers, and employees will benefit from the safe and clear surface.
We have many proud and satisfied customers that fully understand the benefits of our snow removal services. The moment they subscribe to our seasonal plans that we offer, they are sure that their driveway will be clear and safe. While your neighbors will be out running their snow blowers and shoveling in the cold, you will be safe and warm while enjoying the benefits of having a clear driveway. Our snow plowing and removal services are priced right and well organized. We do also offer additional shoveling and snow removal at an extra cost.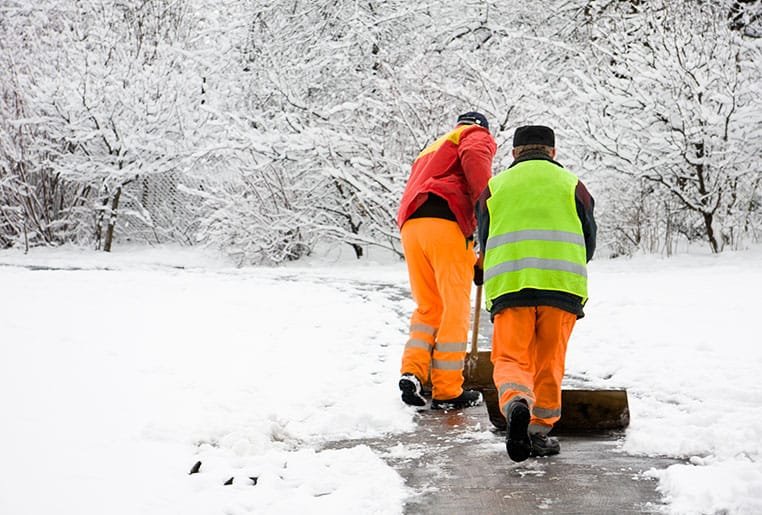 How much does Minneapolis Snow Removal Cost?
We offer competitive rates on all of our snowplowing services and the price given depends on property size and features. We offer a complete range of winter services, which all are available through seasonal contracts. Through these contracts, we ensure that snow is removed anytime it falls. Through professional grade, truck-mounted plows, snow blowers, and all tools and equipment needed that make the work easy for us. As such, you do not have to worry about snow with our services.
Though we're thorough, we offer affordable rates for all types of businesses. We have the ability to keep our overhead low, which simply means a reduced cost for our clients. Through such services, our winter customers do appreciate the value of having a professional grade snow removal service. We always keep our tools and equipment in top condition to avoid unnecessary delays or breakdowns. Our snow removal contractors are not only hardworking but efficient as well. Furthermore, they have been properly trained in the right techniques to employ during different situations or work environment.
Our company upholds a strict code of conduct and professionalism, which means that we're on time and deliver the highest quality service as possible. By contacting us and setting up your seasonal contract, you should rest assured that you are in the hands of a trusted company that believes in efficiency, customer satisfaction, and service delivery.
Give us a call today at 612-263-8858 to get a free quote for commercial snow removal services over the winter.